AMAZ LIQUID FISH PRO
AMAZ-Liquid Fish Pro Contains:
Various Bacillus species, Nitrobacter, Nitrosomonas, Rhodococcus, Rhodobactor, Pseudomonas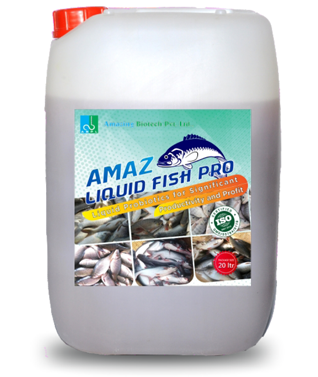 Benefits of Liquid Fish Pro:
Helps in rapid decompostion of organic waste in the pond system.
Controls vibrio and other Pathogenic Micro organisms.
Effectively reduces Ammonia, Hydrogen sulphide, Nitrate, Nitrite and other toxic gases.
Maintains Plankton level and pH.
Improves the water quality and reduces water exchange.
Improves growth of Animal and FCR.
Usage Recommendations
200 – 500 ml – 1 ltr/1acre/one meter water depth once in every 10 days.
Package size : 20 Ltr