GROW GAIN
( For Perfect Moulting )
FEED SUPPLEMENTS FOR AMAZING GROWTH & PERFECT MOULTING
Grow Gain is natural non-toxic enriched with nucleotides, yeast extract (Saccharomyces cerevisiae), algal protein, probiotics, enzyme, vitamins, minerals and amino acids.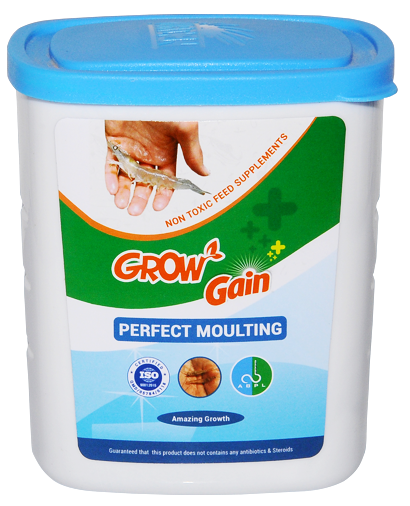 BENEFITS OF GROW GAIN
Reduces incidence of disease/stress by improving Immune system of the host.
Provides high quality nutritional value.
Improves digestion and attraction to feed.
Increases biomass in fish and prawn.
Improves growth rate.
Improves FCR.
Improves productivity and profits significantly.
DIRECTIONS FOR USE
Mix the grow gain, first with clean water and apply to the feed. then dry the feed for 20 minutes. Coated to feed with oil binder
Usage Recommendation
L. vannamei / P. monodon: 5 to 10 gm / 1 kg of feed
Package Size: 500 gm